Accommodation: Villa San
Kamenari, Montenegro
category
category
category
Number of views: 18220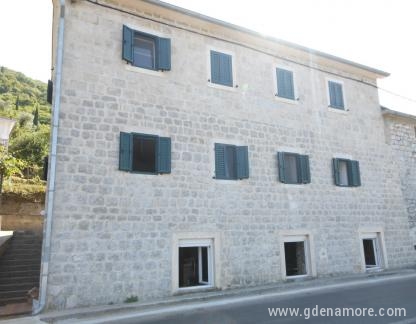 Apartment:
Room:
Studio:
Whole object
Villa San is located in the quiet village of Kostajnica, 16 km from Herceg Novi. The pebble beach with sun loungers is only 10 meters from the villa.
All studios are air conditioned and have a terrace, and the window overlooks the sea. There is a fully equipped kitchenette and a bathroom with a shower. Each studio has a seating area with cable TV.
You can rent a kayak at Villa San. There is also a games room with a pool table and darts, which you can use at an additional cost.
The nearest grocery store is just 50 meters from the villa, and a restaurant is 1 km away. Ostrog Monastery, the only place of pilgrimage built on a vertical rock, is located 80 km from Villa San.
The villa is 20 km from Kotor and 12 km from Perast. Dubrovnik, with its famous UNESCO-protected Old Town, is 56 km away. You can reach Tivat Airport by ferry. It is located at a distance of 20 km.
Legend:
All rooms, apparments
Some rooms, apartments
No
Capacity:

4 apartmana

Seaview:
Water 24h:
Bathroom:
Kitchen:
Room service:
Safe box:
Large terrace:
Balcony:
Air conditioning:
TV:
Cable TV:
Internet:
Telephone in the room:
Parking:
Garage:
Pool:
Suitable for children:
Pets allowed
Suitable for disabled people:
Characteristics of accommodation
Legend:
All rooms, apparments
Some rooms, apartments
No
Capacity:

4 apartmana

Seaview:
Water 24h:
Bathroom:
Kitchen:
Room service:
Safe box:
Large terrace:
Balcony:
Air conditioning:
TV:
Cable TV:
Internet:
Telephone in the room:
Parking:
Garage:
Pool:
Suitable for children:
Pets allowed
From the center:

0 meters

From the beach:

10 meters

From bus station:

5000 meters

From airport:

6000 meters
From ambulance:

5000 meters

From restaurant:

100 meters

From sports fields:

1000 meters
Prices and payment options
Payment options:
Cache:
By bank transfer:
Credit cards:
In Pre-season

na upit

In high-season

na upit

In post-season:

na upit

Out of season:

na upit
Updated: 05/25/2022
Powered by GdeNaMore.com